Restarts and reconnections
Dennis Roussin is drawing a path to the future that includes retracing his past.
Growing up in northwestern Ontario, Dennis was a kid who liked to doodle and draw. He painted school murals as a student at Eagle River Public School, where his Grade 6 teacher encouraged his talents as a young artist. He studied fine arts in high school, and after graduation went to study at Alberta's University of the Arts.
"It was expensive, I was young, and it didn't go so well," he recalled of moving away from the family farm at 17. He dropped out and went to work for WestJet for the next decade, starting in a call centre before becoming an agent at the Winnipeg airport, where he worked for eight years leading up to 2020.
Throughout his career with the airline, the idea of returning to school was always at the back of his mind. Two years ago, he enrolled in graphic design at Red River College Polytechnic. The ongoing pandemic meant he would begin — and complete — the program two years later without ever attending classes in person.
He was able to get to know his fellow students, with sketching events at The Forks and by organizing other social events, including those for international students. They were finally able to travel to Winnipeg after first joining virtual classes from their homes in China, even as that meant logging on in the middle of the night. Dennis picked them up at the airport and organized students here to provide care packages to help them through quarantine.
As someone who would draw, paint, sculpt and sew, moving to digital design was a huge shift, he said. "My first day of class was my first time using a MacBook."
Returning to studies in the arts also provided a way to connect with his Métis roots. He didn't know his family was Métis until he was around 11 or 12, he said. It was safer to keep that part of the family's identity under wraps and be perceived as a "regular white family," in a part of the country where nearby First Nation communities also faced the effects of Colonization and racism. It wasn't until much later that his grandmother revealed joy and pride for her culture, "when it was okay to be Métis again," said Dennis.
That reconnection and researching his family tree proved to be an important part of going back to school, as officially becoming a Métis citizen opened the door to funding sources for his education. It also became the first connection for Dennis and Vincent Design, as he was awarded a scholarship from the Vincent Design Indigenous Scholarship Fund.
Red River program instructor Darren Stebeleski also encouraged Dennis to find his voice through work creating campaigns to make social change, including one he worked on to defeat stigmas around HIV.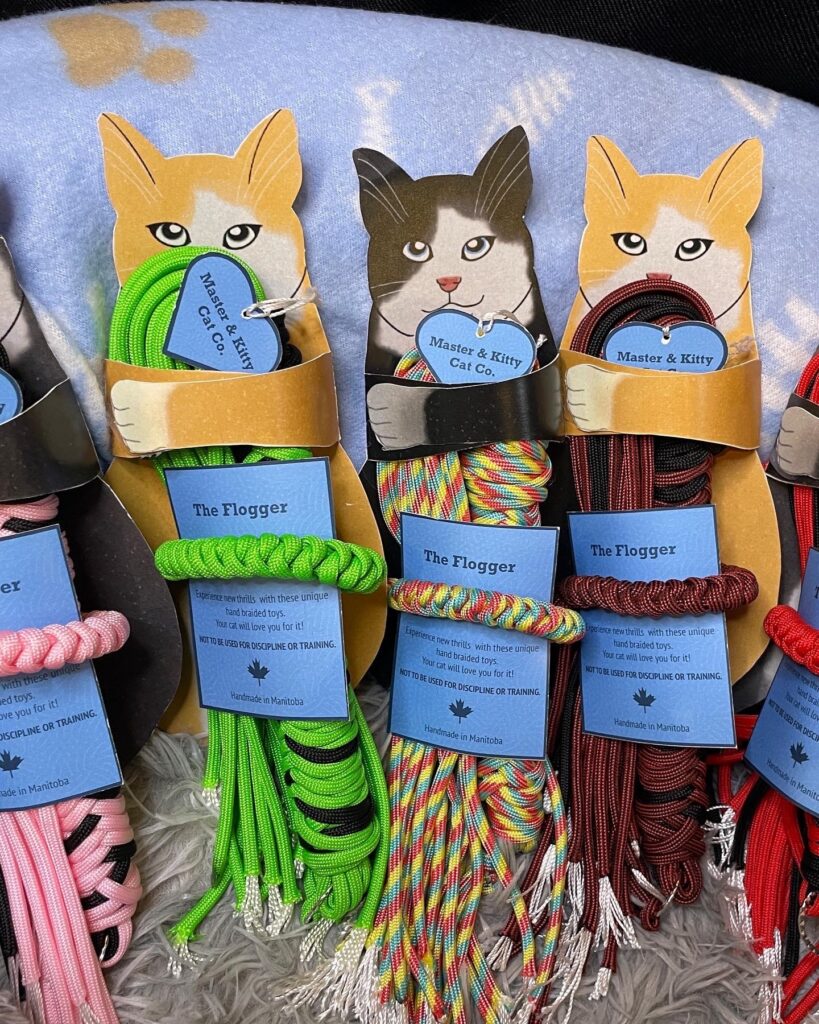 He was also able to explore some less serious topics, including creating a product for one of his courses — The Master & Kitty Cat Company toys, a product inspired by a friend who is a dominatrix. The friend commissioned Dennis to make something for her using colourful nylon cord. Dennis' cats Stevie and Olive were having just as much fun with the braided strands and the kitty toy line became a reality. In addition to the cats, Dennis and his partner also have two dogs, Daisy and Hudson.
Dennis said he's excited for an in-person graduation ceremony after a long two years, and taking the next step in his journey.
---