New web accessibility requirements on the way
On April 22, 2022, the Manitoba government published a new regulation under the Accessibility for Manitobans Act, or AMA. Known as the Accessible Information and Communication Standard Regulation, it requires Manitoba businesses and organizations' websites meet web accessibility standards.
As a business owner or someone responsible for your organization's web presence, it's important to understand the requirements and take steps to ensure the sites are meeting the web content accessibility guidelines set out in the act. Making sure websites are accessible reduces the risk of legal costs, including fines up up to $250,000 for not complying with regulations.
What are the penalties for a website not complying with AMA mandated WCAG standards? Organizations and officers or directors of the organization can face potential fines and risk a civil suit being filed against them.

Corporate officers and directors 34(2)
If a corporation commits an offence under this Act, a director, officer, employee or agent of the corporation who authorized, permitted or acquiesced in the commission of the offence is also guilty of an offence, whether or not the corporation has been prosecuted or convicted.

Penalty 34(3)
A person who is guilty of an offence under this Act is liable on summary conviction to a fine of not more than $250,000.


From: C.C.S.M. c. A1.7 The Accessibility for Manitobans Act
WHAT IS WEBSITE ACCESSIBILITY?
Web accessibility is the practice of making your websites usable by as many people as possible. 
One in 5 Canadians – or 6.2 million people ages 15 and over are living with some form of disability. Accessibility involves a wide range of disabilities, including visual, auditory, physical, speech, cognitive, language, learning, and neurological disabilities. These web content accessibility guidelines also make web content more usable by older individuals with changing abilities due to aging and often improve usability for users in general.
Why does my website need to be accessible?
We believe websites should be accessible, and not just to meet website accessibility standards. Content should be accessible to all users. The practices that improve web accessibility also make your site more usable by mobile phone users or those on low network speed.
A website's ease of use is important for everyone. People don't revisit sites if it's not easy or convenient.
All Manitoba websites and web content must meet or exceed the World Wide Web Consortium (W3C) Web Content Accessibility Guidelines (WCAG) 2.1 Level AA, or WCAG accessibility, if the following applies:
an organization's web content is published on or after this standard comes into force for the organization, or
the web content is required to access an organization's goods and services.
WCAG accessibility is based on four main principles, known as POUR: Perceivable, Operable, Understandable and Robust. One example that falls under perceivable is that elements should never depend on colour as the only visual means to convey information, indicate an action or prompt a response on a site. This is because some users may only view the content in grey scale instead of colour. "Click the red button to proceed," would not be accessible.
Another example would be contrast ratios in text, using very dark colour text on a light background, and light text on a dark background. Developers can check colour pairings using tools such as contrast measurement tools and other website accessibility checkers to ensure they are in WCAG compliance.
What does this new regulation mean for your business?
Essentially, this means your company or organization's website content and web applications must be free from barriers that get in the way of a person obtaining, using or benefiting from the information they contain.
The new regulation adopts globally recognized web content accessibility guidelines as a minimum requirement.
The regulation applies to all organizations in Manitoba with one or more employees.
How do I know if my website is accessible or meets WCAG compliance?
We'll find out for you, and if you're starting from scratch, we'll design it to ensure it is. Reliable website accessibility checker tools help determine if your website meets web content accessibility guidelines.
There are a number of evaluation tools available, but finding the one to match your site's particular needs can be a challenge.
When does my website need to be ready?
Public sector organizations, libraries and educational institutions have until May 1, 2024. This includes Crown corporations, regional health authorities, municipal and regional libraries, Manitoba's 10 largest municipalities and government agencies, boards and commissions. It also includes educational institutions: colleges, universities, adult learning centres, private vocational institutions, private and public schools and their libraries.
Private sector, non-profit organizations and small municipalities have until May 1, 2025. This includes Manitoba businesses and organizations with one or more employees, such as shops, restaurants and professional services. Non-profit organizations include charities, places of worship, community organizations and membership associations also must comply by this date.
Why should you hire us to help?
Accessibility is a part of Vincent Design's commitment to responsible design via consultation, trust and accountability. We're also knowledgeable about creating sites that meet Web Content Accessibility Guidelines.
The National Centre for Truth and Reconciliation is an example of a website we built to be a fully WCAG-compliant website.
---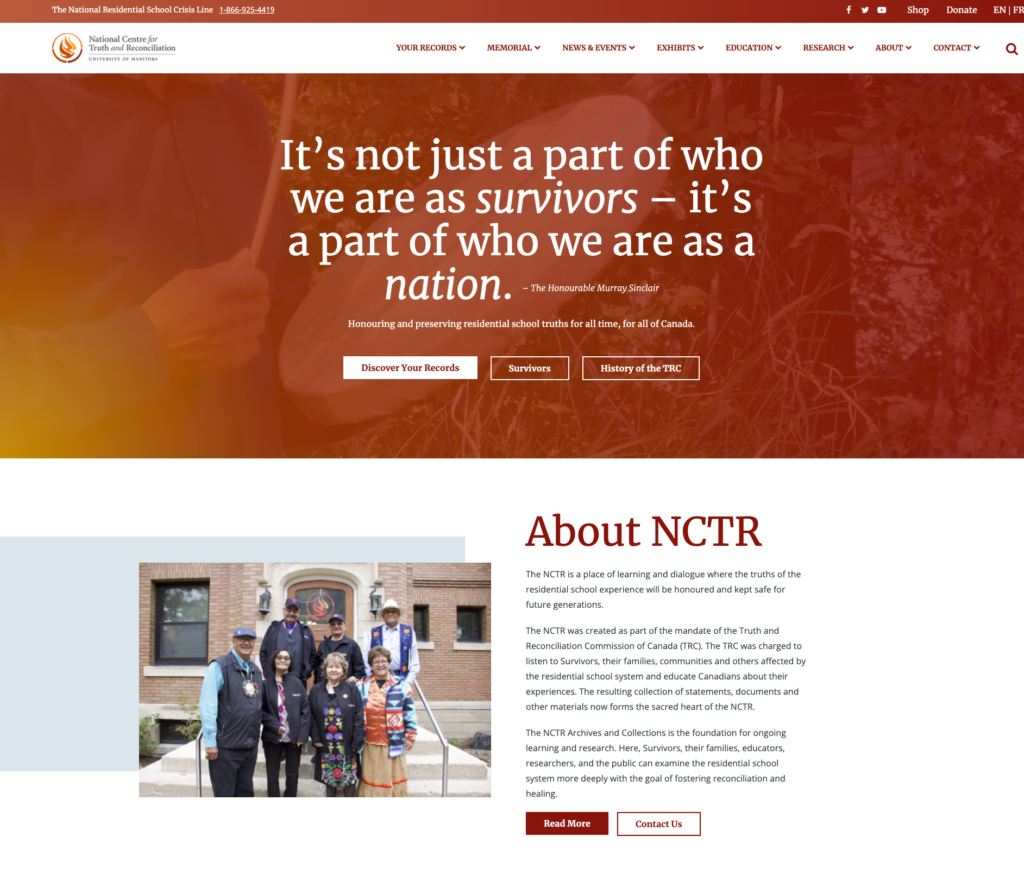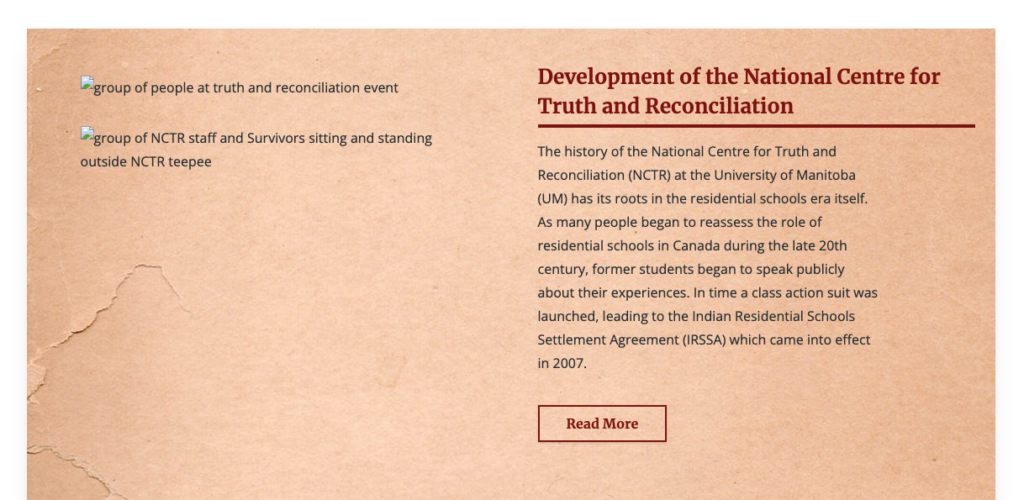 ---
How much does it cost to meet website accessibility standards?
While there is an initial cost to incorporating WCAG accessibility, the investment pays off. Most organizations benefit financially when more people use their website, resulting in increased sales and awareness. The things that make a website more accessible also increase the "findability" of web pages, making content available to search engines, both within a website itself and across the web. Alt text is available to search engines, and most search engines access text and not images.
Accessible sites can be used by more people, and in more situations. This includes people with disabilities, people using mobile devices, older people, those who may not be fluent in the language of the site, or people using older tech.
Direct cost savings include lower costs to maintain a site, decreased server capacity, reducing the need for creating multiple versions of a site for different devices and lowering the cost of upgrading for new technologies.
An accessible website can reduce the demand for alternate formats when people use the website instead of large print or braille formats, saving on production and distribution.
Incorporating web accessibility standards from the beginning is easier, less expensive and more effective than working to make a site accessible after the fact.
Learn more about the business case for accessibility at the W3C site.
What happens if our website doesn't meet web accessibility standards?
The Manitoba government will conduct reviews to determine compliance with web accessibility standards for content and web applications. The aim will be to provide organizations with constructive feedback and, if applicable, a plan to achieve WCAG compliance. If this approach is ineffective, sanctions may include an order to come into compliance with and fines.
So once our website is brought up to compliance, all good, right?
Websites are always changing. You can set up good practices, but it is important to maintain website accessibility standards along the way. We can help ensure website accessibility is preserved.
There is a certain level of expectation when it comes to the functionality and ease of use of sites. For example, "tabbing" through sites, especially forms, is a common practice to speed up site/form navigation. This only works if the site has followed proper keyboard navigation guidelines.
Even the average user can get frustrated or lost if a site does not follow guidelines, including some that are often overlooked. Labels should always be visible. However, many sites do not ensure this and will hide the labels after you input your answer, making it harder to change them later.
Ensuring your website is accessible is good for users and good for business.
---
For more information about Manitoba's Accessible Information and Communication Standard, check out the following:
Overview: https://accessibilitymb.ca/pdf/introduction_to_the_ic_standard.pdf
FAQ: https://accessibilitymb.ca/pdf/ic_standard_faq.pdf