Giving Back: Local Collaboration Supports Orange Shirt Day
Our founder and Creative Director, Shaun Vincent, knew he wanted to do a custom design in support of Orange Shirt Day – but it wasn't until he met Sean Rayland that the pieces of the project came together in just the right way.
We first crossed paths with Rayland in the fall of 2019, at an Aboriginal Chamber of Commerce event at Red River College. Rayland is the owner and founder of local social enterprise company Red Rebel Armour, his family-run business specializing in hand-printed clothing with empowering messages. His website showcases the premium Indigenous apparel he prints, also noting "we're more than just a clothing brand, we're a community. Since we promote and encourage healing, we can partner along with organizations that provide social supports and services."
Needless to say, we love this brand and his business philosophy; having made a strong connection with Rayland, we were all on the lookout for the right opportunity to collaborate.
When September approached, that opportunity arrived: Orange Shirt Day is September 30 every year and an important and somber day in our communities and across Canada. Started in 2013 in Williams Lake, BC, Orange Shirt Day is about remembering, educating and promoting awareness of the Residential School System and its inter-generational impacts on Indigenous Peoples, families and communities.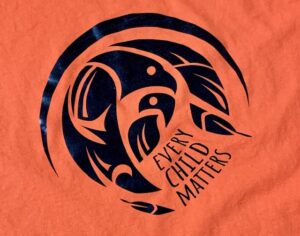 We knew that to get this done in the right way, and in time for people to order by September 30, we'd need Rayland's expertise and the successful platform he's built with Red Rebel Armour. Also a housing support worker at the not-for-profit Resource Assistance for Youth, Inc. (RaY) and a second-year student in the Social Innovation and Community Development program at Red River College, Rayland has a wide network across the city's artistic and cooperative communities for putting good projects in motion.
With a design already in mind centered on healing, reconciliation and the "Every Child Matters" concept of Orange Shirt Day and the Orange Shirt Society, we reached out to Rayland to see if he was already planning a custom t-shirt for this year – and if not, would he would be interested in coordinating the production and distribution if we donated our design.
It was especially important to Rayland that anything sold for Orange Shirt Day through his business would be a not-for-profit initiative, honouring the philosophy of social enterprise and the purpose of the event – we absolutely agreed, and it was decided that all profits from sales of the t-shirts would go to the Orange Shirt Society.
With the details sorted, Rayland made calls and things really took off. Between a Friday and the following Monday, we had our first batch of shirts headed out the door.
Normally, Rayland hand prints each order as it comes into Red Rebel Armour in his home-based studio, but as we wanted to screen print a large batch of the shirts in a short time, we needed more help and a bigger space. First, he enlisted help with printing from Cree and Métis graphic designer Justin Bear, his friend and Print Tribe co-founder, a new collective they've formed that brings members of the print community together in mentorship roles for youth interested in learning different printing processes.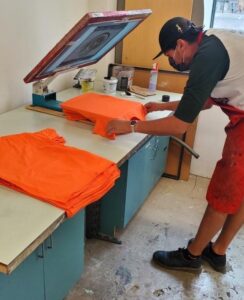 "I reached out to Justin to ask if we could make this happen, and he said okay right away," recalled Rayland. "He got us the time and production space we needed at the Martha Street Studio, which he knew about as an artist but also as a former board member there."
And when the day came to print, Bear asked if he could also bring along an extra pair of hands – a youth he was working with through Jordan's Principle.
"So the three of us went into the studio space and started on the first 100 shirts," says Rayland. "We were taking pictures as we went along, and it just started to sink in about how many people and processes came together so quickly to make this happen. I just kept thinking 'this is what it's all about.'"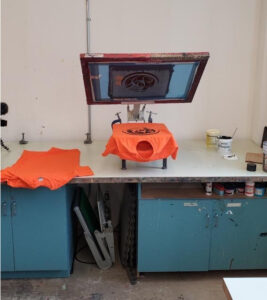 On the Sunday afternoon, our resourceful group of collaborators had the first 100 shirts printed, with 25 already pre-sold through Red Rebel Armour. Things are now getting organized to print the second batch, ensuring everything can be shipped to online customers and delivered to local youth at RaY by September 30.
Being a part of the community that came together to offer their skills and time to make this happen for such an important cause is really an honour for us. We're grateful for the opportunity to give back and looking forward to doing it again next year. Rayland also says he's already on board.
"In the future, we could do this again and keep raising money for Orange Shirt Day and the Orange Shirt Society," says Rayland. "This is exactly the kind of project I want to be doing. I'm all about focusing on the stories, connecting with people and creating a positive message."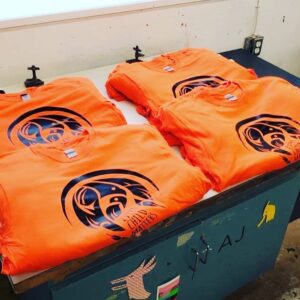 You can order your shirt online at Red Rebel Armour. This year, they are available in sizes ranging from adult small through to adult XXL, making it the perfect Orange Shirt Day wear for teens, teachers, parents and more.
You can also follow us on Instagram (@vincentdesignca) to see more photos of the t-shirts being printed and get to know all the talented artists and collaborators that made this project happen.