The Vincent Design Indigenous Scholarship Fund
In the summer and fall of 2020, we collaborated with a team of partners and clients to get a special project organized and off the ground. We're excited to announce that the Vincent Design Scholarship Fund is now fully funded and open for applications to build more opportunities in graphic design.
Specifically, our scholarship provides educational funding to Indigenous Youth pursuing college or university studies in graphic design and related programs in Canada. We know every student's story is different, but the reality of the financial gap for many under-served Indigenous Youth is still apparent and needs to be addressed.
And after 15 years building our firm, we find ourselves in a place where we can give back to our community and pay it forward to the next generation of designers. In creating this scholarship, we're aiming to reduce barriers to educational success for eligible Indigenous Youth while encouraging their future careers and contributions in the visual arts.
"We've reached a stage in our growth where we now have the capacity to focus directly on our outreach goals in a way that has potential for the most meaningful impact. We are also more experienced now as employers, and we see the real need for more trained Indigenous designers — we can be a part of creating those opportunities."

~ Vincent Design founder and creative director, Shaun Vincent
Breaking Down Barriers, Building Connections
We are happy to announce that we'll be able to award two scholarships each valued at $5,000 in each academic year.
Recipients of the Vincent Design Scholarship Fund will be able to apply those resources towards educational costs in post secondary design or related program studies.
Plus, Vincent Design will participate in a mentorship journey with successful recipients throughout their academic career, continuous to a post-graduation placement or practicum. This aspect of the initiative is really exciting for us – we know from our own experience starting out in this industry that emerging designers benefit greatly from having a community of experienced mentors to show us the ropes and help us find our own path as artists or business owners or both.
To bring the scholarship fund to reality, we are thrilled about partnering with our client and colleagues at Indspire, a national Indigenous registered charity that invests in the education of First Nations, Inuit and Métis people. Indspire is administering the fund for both donations and the application process. With the breadth of their experience in fundraising, inspiring achievement and community building, along with the reach of their audience nationally, we know this fund and the opportunities it can provide for Indigenous education is in the very best hands.
"We have always had the sense that we could be successful professionally, but that it would feel hollow without meaning attached to that success. For us, the meaning comes from having connection and impact within the communities we work and live in. It's truly an honour to have these kinds of opportunities to collaborate with members of our personal and professional networks on such important projects."

~ Chris Redekop, Accounts Manager
Want to Apply or Donate to our Scholarship Fund?
The scholarship fund is administered by Indspire; they oversee and coordinate collection of donated funds and candidate applications as well as distribute the scholarship funds. Eligible student applications are adjudicated by Vincent Design.
Eligible Indigenous students enrolled in a Canadian graphic design or fine arts program can apply directly through Indspire. Deadlines for applications are in August and February of each academic year.
Students from anywhere in Canada, with any Indigenous affiliation can apply, but preference will be given to students in Manitoba. The scholarships will be designated to one Métis, one Inuit and one First Nations student per year at minimum.
Follow us on Instagram (@vincentdesignca) for news and announcements about the scholarship fund, the application openings and deadlines, and our first successful recipients.
---
How to apply for the Vincent Design Indigenous Youth Scholarship:
1. Go to https://indspirefunding.ca/vincent-design/
2. Click on 'apply now"
3. Click "Sign in" in the top right corner
4. Click "Register" to create an account
5. Once registered students can begin their application
---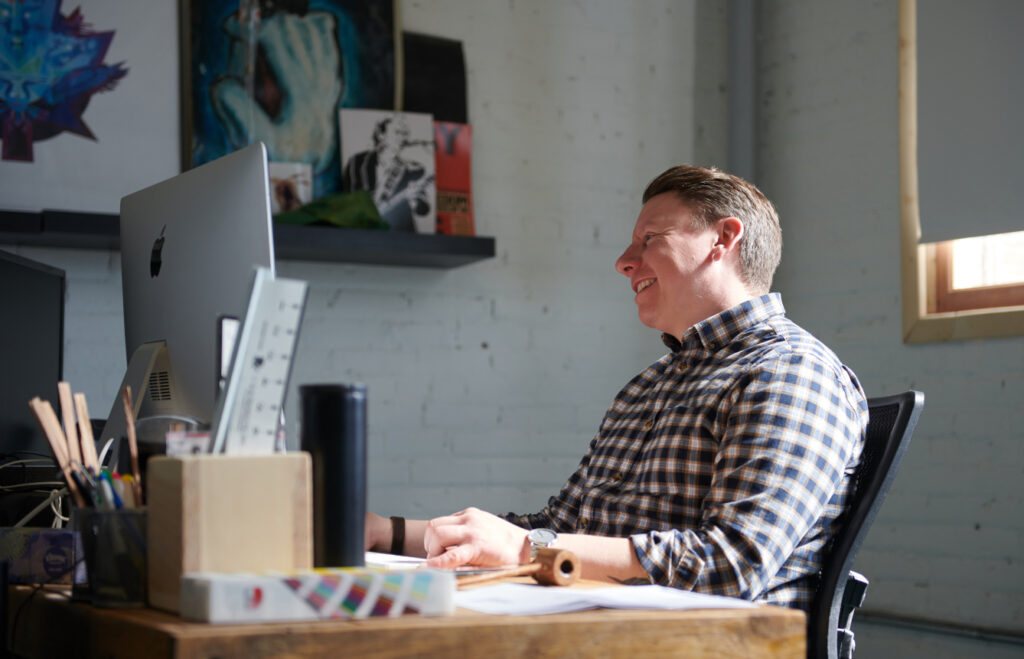 And we invite and encourage you to share this post widely: we hope to reach as many youth as possible who are considering or currently pursuing studies in graphic design or fine arts and who might be eligible for the scholarship. If you or someone you know would also like to contribute to the scholarship fund, donations can be made on Indspire's website. (And remember, they are matching every donation dollar for dollar!)
As always, we deeply appreciate your support for the vibrant, talented and growing community of Indigenous designers here in Winnipeg and across the country. Helping us spread the word about our scholarship fund, and your generous contributions towards the fund, will make a real difference in these students' lives and the future of Indigenous design.