Saying Yes to Walking Together
Sometimes no is a one-word answer.
Simple, direct and to the point. No.
But nothing is simple in the relationship between First Nations, Métis and Inuit People and the Catholic Church.
When I was first approached about creating a logo for the Pope's visit to Canada, the word that echoed in my head was no.
No.
There's too much to lose. Too much attention.
Too much already on my plate. Too much pain.
No.
So what made me change my mind?

---
Like so many other aspects of my life, I am of two worlds. Etuaptmumk, or two-eyed seeing as expressed by Mi'kmaw Elder Albert Marshall is part of who I am… always tuning my mind into different places at once; always looking for another perspective.

It is the greatest challenge of Indigenous graphic design, and for me its greatest reward. When a design comes to life and a logo does what it's supposed to do in communicating for a business, organization or community, there's no better feeling.
No was not going to be an easy answer. Saying yes would be even more difficult.
I was baptized in the Catholic Church along with my brothers. The church community was an important part of my family growing up. My mother's faith was devout and steadfast. Pope John Paul II was someone both my parents admired for his ability to build bridges between faiths and for the way he understood young people needed attention and guardianship, something my mom valued in her life's work. When she passed away in 2013, we celebrated her life with a funeral mass as we knew it was what she would have wanted. I know she would have been so proud of this work.
But I also witnessed the harm that has come from colonization and the Catholic Church's role in operating residential schools. When I heard of the initial 215 children found, I felt the hurt so deeply, and their fate devastated me. I've talked with Survivors and have heard their words and witnessed their distress, even as the work has been focused on healing.
How was I able to say yes?
First, I learned about who else was involved. I didn't want to go this alone, or be part of a project that was made to look right from the outside in. I went to people I trusted.
Ultimately I decided that having a voice would be better than not having a voice.
This visit is important and Pope Francis will be listening and speaking with Indigenous People. 
Designing a logo is always a journey. I research, learn and put what I've learned into the work, layering it with meaning. This visual representation is about being seen and heard, here on our land. You can see the creators work in everything in this world, and I also wanted that to be represented.
This hasn't been like any other job, and one I didn't want to be transactional.
Now that the logo is out, it's no longer mine, or Vincent Design's. It's for hope. It's for healing.
I say yes to both.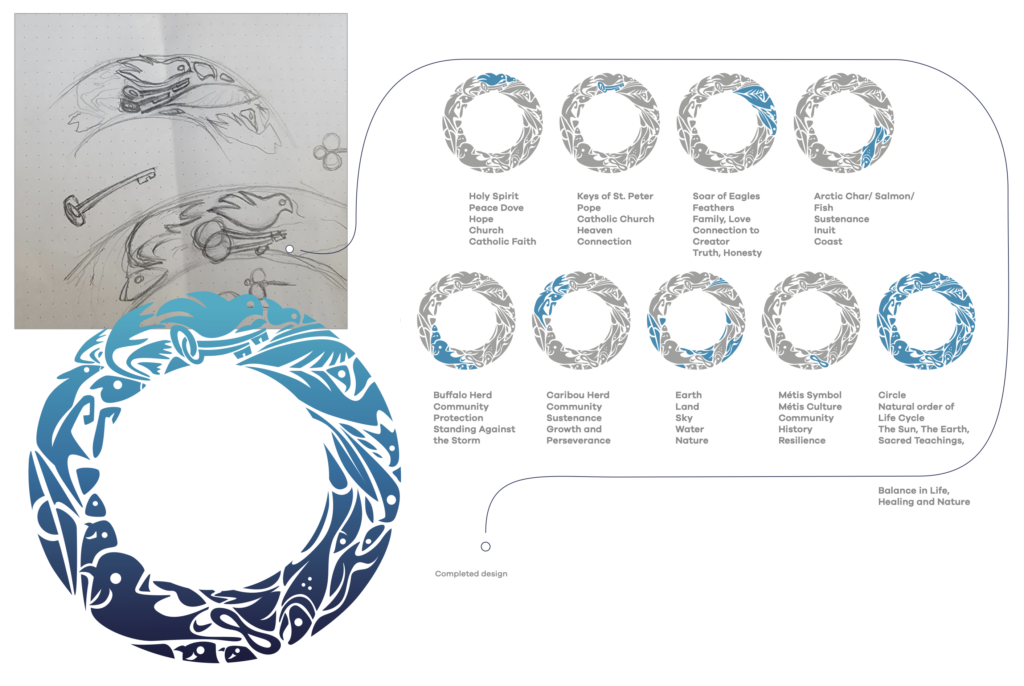 Learn More:
---