Leading the way one story at a time
Storytelling is the fuel to all creative marketing efforts. It's the driving force behind our ability to connect with audiences on a meaningful level — sparking emotions and leaving lasting impressions. Whether we're crafting a compelling ad, designing a social media campaign, or writing an email that captures attention, it's the narrative we weave that makes all the difference.
At Vincent Design, we are fortunate to have Claudine Gervais, our resident storyteller, leading the way. Today, we're sharing her story.
Claudine was born in Minneapolis and grew up in Devils Lake, North Dakota. As demonstrated in her junior year high school yearbook, Claudine knew she'd pursue a career in writing since childhood.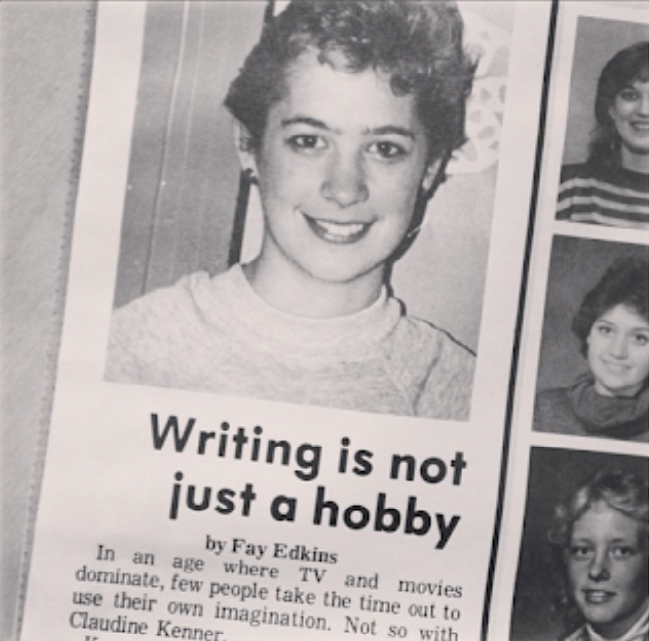 Ever since she made that decision, Claudine threw herself into writing experiences that would help expand her craft. Her first job was writing for the Family Gazette, a paper she and her sisters sold for 25 cents. From there, she ventured into the world of community journalism before making her mark in Canada, writing for esteemed organizations such as Travel Manitoba, CAA Manitoba, and two top branding and advertising agencies in Winnipeg.
Whether it's a news article, a biography, or just a short social media post – Claudine's passion for storytelling is what makes her the accomplished writer she is today. Her secret lies in immersing herself in the client's shoes, telling their story as if she were living it herself. Claudine's compassionate nature enables her to engage people effortlessly, delving deep and asking the thought-provoking questions.
Today, Claudine takes on the role of copywriter for Vincent Design Inc. – offering her words to a huge variety of clients that ensure storytelling remains an exciting challenge for her.
"I tell stories with my design, and at times those stories are complex, involving many parts. It's all about communication – client's need to know all the details and understand why these choices were made. Claudine's words do just this: they are the counterpart to my visual work, allowing for a fuller understanding and expression. It's a bonus for everyone when her flourishes and contributions bring added meaning to the project. Her smiles tell me she loves that part." – Shaun Vincent
Claudine enjoys exploring her artistic side with collaging, crafting, and photography. She loves spending time with family, friends, and snuggling up with a good book and her two fur babies.
A particularly passionate project for Claudine has been Project Valentine -– an event that she has personally organized every year for the last decade. Between 2013 and 2018, Project Valentine made 1600+ handmade valentines for people undergoing treatment at CancerCare Manitoba. This heartwarming endeavour continues to grow each year, spreading joy and brightening the day for those who may be facing difficult times.
In any creative marketing endeavour — behind every product, service, or initiative — there's a story waiting to be shared. Thanks to people like you, Claudine, for making it possible for these stories to be told.
---